This is an archived article and the information in the article may be outdated. Please look at the time stamp on the story to see when it was last updated.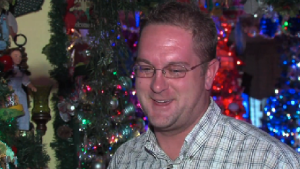 GREENWOOD, IN – An Indiana homeowner is taking Christmas decorating to the next level. Brandon Smith has more than 52 thousand lights, hundreds of themed displays, and 86 christmas trees, all inside his house.
The house is 1400 sq feet and it's decorated from floor to ceiling, including the bathroom.
Smith's been decorating since 2002 and the display grows every year.
It's open to the public. All he asks is for a donation to Riley Children's Hospital.