This is an archived article and the information in the article may be outdated. Please look at the time stamp on the story to see when it was last updated.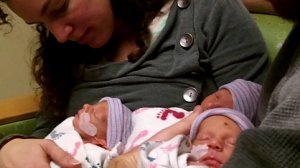 SACRAMENTO, CA – Hannah and Tom Hepner are the proud parents of triplets. But these aren't just any triplets, they're extremely rare babies.
That's because they were conceived naturally, without the help of fertility drugs.
Experts say the chances of a naturally occurring identical triplet birth are between one-in-a million to one- in-200-million.
The babies are named Abby, Brin and Laurel.
Hannah gave birth on November 22 after a high risk pregnancy.
Together the three babies weighed all of 11-pounds at birth.
That may not sound like a lot but it's a hefty weight for triplets.