This is an archived article and the information in the article may be outdated. Please look at the time stamp on the story to see when it was last updated.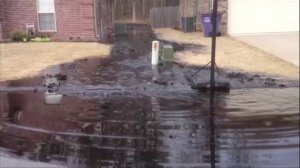 MAYFLOWER, AK – Mayflower, AR, population 2,300, is a speck on the map running alongside Interstate 40, but it's the center of the world for ExxonMobil right now.
That's because a 60-year-old pipeline ruptured last week, covering lawns, streets, and just about everything, moving and not moving, with a slick and slimy coat of crude oil.
And that includes God's creatures, great and small.
Like the little critters being cleaned up and treated by the HAWK Center, a wildlife rehabilitation clinic.
The center has taken in about a dozen animals, including birds and a muskrat. The Environmental Protection Agency calls this a major spill. Mr. Muskrat and his fury and feathered pals are probably calling it a major fubar.