This is an archived article and the information in the article may be outdated. Please look at the time stamp on the story to see when it was last updated.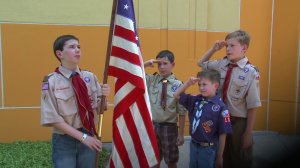 THE WOODLANDS, TX – "I pledge allegiance to the flag of the United States of America…"
Most Americans never tire of hearing that pledge, but sometimes the flag they're pledging to gets tired, torn and worn out.  What then?
Well, 14-year-old Eagle Scout Al Shaffer IV is making it his mission to collect those worn out flags and retire them properly. He's hoping to make it a new July 4th tradition in the Woodlands.
"Since my grandfather served in the military, I wanted to do something to honor him," Al says. "He really respected the country and since the flag's a symbol of it, I wanted to do something for the flag… You don't just throw it away. You retire it respectfully."
Proper retirement includes cutting the field of stars away from a tattered flag and separating red stripes from white. Each is then burned separately in a respectful ceremony, like the one Al and his troop held at a Woodlands Fire Station #1 on Grogan's Mill Road recently. His project is part of Al's becoming an Eagle Scout, the top rank in Boy Scouts.
"He's kinda into lists and earning things," laughs his mom Amy Shaffer, who helped him organize the project.
But scouting's meant much more to Al than just earning badges, "I've developed a lot of leadership, and I used to be afraid of talking in front of people, and I've learned to just go with the flow." That's something he demonstrated conducting the flag retirement ceremony, explaining each step before a crowd of about 25.
"I've been really proud of him," says his dad and assistant troop leader, Al Shaffer, III. "He's blown me away in his growth."
Helping grow young men into responsible adults — that's what the Boy Scouts have always been about. But lately, it seems the only thing we ever hear about them is, "Will they or won't they allow gays in?" In May, the Sam Houston Area Council voted to admit gay scouts but not gay leaders. The Shaffers say that hasn't deterred them at all.
"We've had a great experience with scouting," explains dad Al. "We've enjoyed it, and we're going to continue to participate as we have been." He stresses the importance of parental involvement in the success of the scouts.
His son explains why the recent changes regarding gays might not work very well, "Them allowing scouts to come in as gays– they're gonna turn 18, and they're gonna want to be leaders because they went their whole life through scouting. And some people aren't comfortable with gay leaders with their son."
But maybe it's time we allow them to get comfortable with gay leaders. After all, if a gay scout grows up learning the same values and respect Al and his Troop 777 demonstrate, any kid would be lucky to be led and taught by him.