Family thankful missing Magnolia teen is found safe
This is an archived article and the information in the article may be outdated. Please look at the time stamp on the story to see when it was last updated.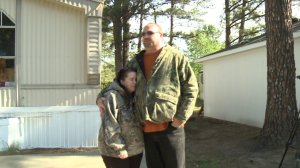 MAGNOLIA, TX – A parent's worst nightmare. Their child kidnapped. But for the Rex family, their bad dream turned into a happy ending.
It all started when the parents of 14-year-old Elizabeth Rex notice their daughter never returned home after a short time out in the neighborhood. Adding to their concern, the family says the teen has a form of autism and down syndrome. She also suffers from bi-polar disorder.
The parents suspected 51-year-old Randy Johnson, a man who lived with the family a short time, had taken Elizabeth. Their suspicions were validated when they called a phone number found inside their missing daughters bedroom and Johnson picked up.
Police were also notified that Johnson previously lived in Harlingen, Texas about 6 to 7 hours south of the family home in Magnolia. It was there that police finally caught up with Elizabeth and her kidnapper. According to police, the suspects been placed in custody for kidnapping at this time.
All this relieved family has to do now is wait until they're reunited with their missing daughter.