This is an archived article and the information in the article may be outdated. Please look at the time stamp on the story to see when it was last updated.
HOUSTON, TX – Fresh from the farm can be hard to find these days, but not if you know where to look, and long-time local shoppers know, in Houston, if you want fresh produce, Canino is the place.
Canino Produce Company has been supplying Houston with rows of fresh fruits and veggies since they opened their spot off Airline Drive, in 1958.
"I always tell people it's like Las Vegas, you go there and see all that money piled up there, we pile up our produce like that," described part-owner, Lawrence Pilkinton.
The piles are packed with goods from Texas, and all over, whatever's freshest. Stocking their shelves with local fruits and veggies has been harder in recent years, though. Chew on this, Canino's only sees deliveries from less than half as many Harris County farmers as they used to.
"There was probably about 50 different farmers back in the old days, but now there's so many that have gone out, there might be 15 vegetable farmers in Harris County total," Pilkinton said.
Atkinson Farms is one of the surviving few. Mike Atkinson is the third generation still farming on their 150-acres in Spring, and still dropping off deliveries at Canino's, like his family has since the 50's.
"I'm here delivering mustard greens, collard greens, eggplant, japanese eggplant, and jalapenos that we harvested this morning," said Atkinson as he made his delivery Wednesday.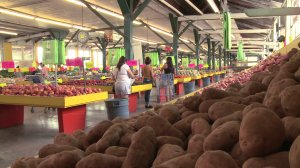 It's fresh produce like Mike's that makes Canino's stand out to shoppers. Their customers range from Houston head chefs to families filling the fridge, and they're all looking for the same thing, quality and variety.
"We try and keep it fresh, we turn it over about every three-and-a-half days, which is good. We get it in on Monday and Tuesday, and then Thursday and Friday," said Pilkinton.
So, mark it down on your calendar, and come over and fill up your cart. Whether you need the staples, or you're on the hunt for something hard-to-find. Canino's can almost promise they'll have what you're looking for, fresh from the farm.