This is an archived article and the information in the article may be outdated. Please look at the time stamp on the story to see when it was last updated.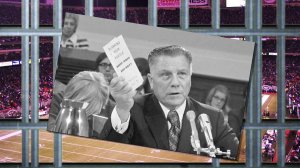 OAKLAND TOWNSHIP, MI – Another day, another hole in the ground in Michigan.
FBI agents continue digging in a field near Detroit in their long-running search for the remains of former Teamsters boss Jimmy Hoffa.
This latest dig comes after alleged mobster Tony Zerilli claims he hit Hoffa in the head with a shovel back in 1975, then buried him alive beneath a concrete slab.
Diggers found two slabs and took them away to figure out if they were for Hoffa or part of a barn foundation.
Zerilli had the feds digging in another field back in January. Last September, they dug up a backyard about 20 miles north of Detroit. And in 2009, FBI agents dug up a Detroit lumberyard, but they would not say if they were digging for Jimmy.
Other possible resting sites for Hoffa include the foundation of the General Motors headquarters in Detroit, and everyone's nostalgic favorite, the end-zone of the old Giants Stadium in New Jersey, because Hoffa never missed a home game, except when he was in prison.