This is an archived article and the information in the article may be outdated. Please look at the time stamp on the story to see when it was last updated.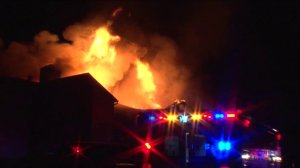 HOUSTON, TX – A boarding house for veterans battling addiction was destroyed overnight in a two-alarm blaze.
One injury was reported. Cy-Fair Volunteer Fire Department says one of their own fell through the 2nd story floor, but was treated at the scene and went back to work.
While the cause of the fire is being determined, victims watch parts of their lives go up in smoke.
"Our apartment was fine until we opened the door and the apartment across the hall was burning. And we couldn't even see down the stairs," said resident Phil Gilman.
"I just jumped up after smelling smoke. I just grabbed my kids and got out the house and didn't get nothing else," said resident James Boyce.
"Forgot our phones and my car keys. I don't know how I'm going to get to work or anything. I'm sure my apartment's gone," said resident Zack Bukowitz.
The Red Cross is now helping these families start over yet again.