This is an archived article and the information in the article may be outdated. Please look at the time stamp on the story to see when it was last updated.
HOUSTON— Seafood lovers, this is for you! Get your taste buds ready for an experience that is worth mentioning to your friends, family and neighbors. Originating from Dallas, the first-ever Shell Shack in Houston is open for business!
If you are headed toward the Downtown area, stop by Shell Shack near Washington Avenue and Sawyer Street. The late night eatery will be serving guests from 11 a.m. to 2 a.m. daily.
Shell Shack's Boil

Fried Catfish with Hush Puppies and Fresh Hand Cut French Fries

Shell Shack's Appetizers, Entrees and Cocktail Drinks

Fried Calamari

Fried Buffalo Shrimp with Fresh Hand Cut French Fries

Crab Stuffed Tater Tots with Shell Shack's special sauces

From left to right: Hurricane Shack, Shell Shack Tea, Blue Hawaiian
Shell Shack adds the right amount of spice to your favorite seafood that your taste buds are begging to enjoy.
From its fried calamari, fried buffalo shrimp, fried catfish, one-of-a-kind crab stuffed tater tots — Shell Shack's exclusive appetizer — and mouthwatering seafood boils, the restaurant makes it a priority to please your palate with mind-blowing Cajun flavors.

You can't leave Shell Shack without tasting their satisfying, warm-to-your-heart desserts. All of the restaurant's desserts are paired with a smooth, sweet sorbet or gelato.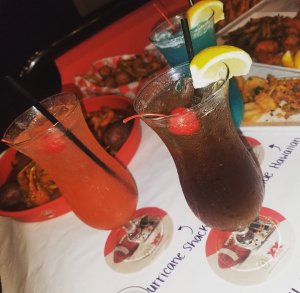 You can pair your appetizers and entrees with the seafood house's signature cocktail drinks including the Hurricane Shack, Shell Shack Tea, Blue Hawaiian and more.
Happy Hour is from 4 p.m. to 7 p.m. Monday through Friday and all day on Sunday.
Of course, please drink responsibly!