This is an archived article and the information in the article may be outdated. Please look at the time stamp on the story to see when it was last updated.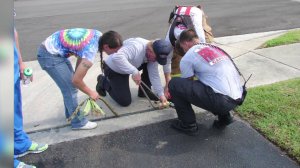 CAPE CORAL, FL – Cape Coral firefighters came to the rescue when ducklings fell into a storm drain.
There was no way to open up the area and get down to the ducklings, which were approximately 2-3 feet below ground.
So crews decided to float the ducks to safety.
They used tank water to fill the drain, as the water rose the ducks floated toward the grate.
Engineer Todd Clark was able to use a pair of tongs to reach in and pull the ducklings to safety.
What was thought to be 8-10 ducks ended up being 20 ducklings, and all were saved.
Once all of the ducklings were removed, mother duck and children found shelter in a culvert nearby.
Glad to see these firefighters got all of their ducks in a row.