This is an archived article and the information in the article may be outdated. Please look at the time stamp on the story to see when it was last updated.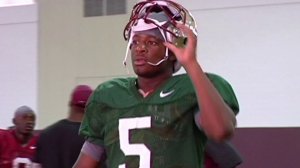 TALLAHASSEE, FL – Johnny Manziel can let out a sigh of relief. There's a different Heisman Trophy candidate getting bad press, for once.
Florida State's Jameis Winston is accused of rape.
The alleged victim claims it happened last December at an off-campus apartment, and there's evidence.
Police records show Winston's DNA was on the young lady's underwear; but that doesn't prove it was rape. Winston's attorney says the sexual encounter was consensual.
There's another twist in the story. The alleged victim's family says the police detective warned her not to report the crime because Tallahassee is "a big football town" and her "life would be made miserable."
Of course, the police department isn't confirming that.
"Unfortunately the investigation is not going to allow us to address any of those concerns at this time," said Officer David Northway with the Tallahassee Police Dept.
Let's hope the young lady's concerns are addressed, and another athlete doesn't escape the law.