This is an archived article and the information in the article may be outdated. Please look at the time stamp on the story to see when it was last updated.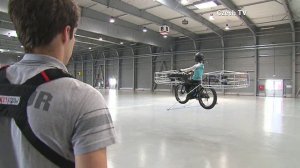 PRAGUE, CZECH REPUBLIC – Three Czech companies have teamed up to make a prototype of an electric bicycle that successfully took off in Prague.
But don't expect to ride long; the flight time for the bike is limited to five minutes. That's when the batteries run out.
Still the companies are charging ahead and say that battery capacity will eventually improve enough for the bike to be used for sports or tourism.
Hold onto your handle-bars and don't forget your helmet. The sky's the limit for this bicycle ride.