This is an archived article and the information in the article may be outdated. Please look at the time stamp on the story to see when it was last updated.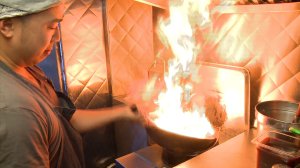 HOUSTON, Tx. – These three partners are giving a swift roundhouse kick to the taste buds of Houston. They are Wokker Texas Rangers.
Co-creator Man Dao says, "The name just came up as we were joking around. We are very silly guys, we`re always working on puns…as we were learning to cook, we cooked on the wok so it just came naturally… our niche is southern cuisine, but more on the Asian twist side."
After years in the restaurant industry, these three 'silly' boys ventured out on a serious mission; to merge a taste of home with the tastes of Texas.
Tony Nguyen says, "We just took it from our experience, I grew up making egg rolls with my mom, and I grew up eating brisket, so one day were like hey, let`s try and put it together, and you know what surprisingly it was delicious."
They`ve got your greens, too. Their Bonito Brussel Sprouts are a crowd favorite.
"What we do is flash fry the brussel sprouts, with caramelized onions pickeled golden raisins, we toss in a little Asian vinaigrette, and top it with smoked skip
jack tuna," explains Nguyen.
And Chew on This, for Houstonians observing Lent, and avoiding meat on Fridays this season, these guys have got you covered. They're offering shrimp versions of their wok dishes. And it doesn't go unappreciated, especially to those that might have forgotten about their observance if it wasn't listed.
The Rangers can usually be found roaming around the Heights area. So head up north, if you want a taste of the South, with a touch of the East.