This is an archived article and the information in the article may be outdated. Please look at the time stamp on the story to see when it was last updated.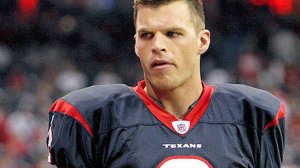 HOUSTON, T.X. – The Texans stand out season has the city, the team, and the fans flying high, there`s one former Texan however who`s less than pleased.
You may remember punter Brett Hartmann. This time last year, Hartmann was wrapping up the season as the league`s best rookie punter, but as any athlete knows, it only takes one play to change all that. It was December 4th and the Texans were playing the Atlanta Falcons. In the game`s final seconds, Hartmann`s foot got stuck between two pieces of turf and he was down for the count.
That one missed step cost Hartmann his spot on the Texans roster, two serious surgeries, and months of rehabilitation. Now, Hartmann is suing his hold bull pen, wanting the owners and managers of Reliant Stadium to pay up. His lawyer Gene Egdorf claims Reliant officials have known about the stadium`s poor filed conditions for years. Reliant is easily one of nicest stadiums in the country, so you`d think that would apply to the filed as well.