This is an archived article and the information in the article may be outdated. Please look at the time stamp on the story to see when it was last updated.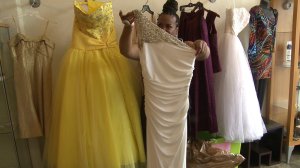 HOUSTON, TX – In a matter of weeks high school juniors and seniors will step out into the evening for one of the most anticipated nights of their young lives, prom.
The My I.N.C foundation is helping ease that pain of the dress buying process with the "Project Beautiful Me" prom dress drive.
The dresses are going to the senior girls at Victory Preparatory Academy South and Principal Letha Gilmore is helping out the cause herself.
This is such a great cause because prom really is a big part of a young female's life. Hopefully because of this dress-drive, they'll get to be part of something they otherwise wouldn't have that magical prom night.