This is an archived article and the information in the article may be outdated. Please look at the time stamp on the story to see when it was last updated.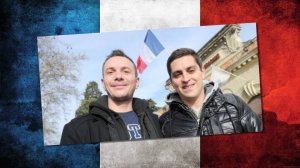 MONTPELLIER, FRANCE – It was the gay je fais heard around the world.
Vincent Autin and Bruno Boileau, exchanged wedding vows, becoming the first legally wedded same-sex couple in France.
France has allowed civil partnerships for several years, but same-sex marriages became the law of the land earlier this month.
As in the United States, the issue of same-sex marriage creates a divided union.
Over the weekend, opponents to same-sex marriages marched in Paris. But their support may be dwindling.
France is now the ninth European nation to approve same-sex marriages. The United Kingdom is thinking about it.
But none of that matters to Vincent and Bruno, who are probably looking forward to the honeymoon, and more than just a French kiss.