This is an archived article and the information in the article may be outdated. Please look at the time stamp on the story to see when it was last updated.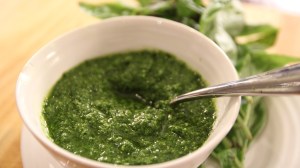 Pesto is great in pizzas, pastas, sandwiches and more. This recipe packs in a few extra super foods into the sauce to pump-up its nutritional content and add sophistication to the flavor. It's not low-cal, but it's full of great stuff. Stay tuned in the coming weeks for some tasty recipes using this savory spread.
Baby Kale, Spinach & Basil Pesto – Feel comforted
Ingredients
3 cup fresh basil
1 cup baby spinach
1 cup baby kale
3 cloves garlic
½ cup Parmesan cheese
2 tbsp pine nuts
Salt
7 tbsp extra virgin olive oil
Instructions
Combine all the ingredients in a food processor, and pulse until smooth.  Stir in more olive oil as necessary.