This is an archived article and the information in the article may be outdated. Please look at the time stamp on the story to see when it was last updated.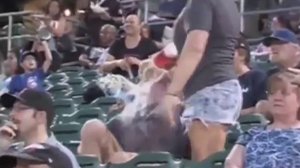 NASHVILLE, TN – If you're with a girl at a baseball game and the kiss-cam focuses on you, you better pucker up! But one guy learned the hard way at the Fresno Grizzlies baseball game.
The video shows the kiss cam going around, but when it gets to them he motions to his girlfriend that he's too busy talking on the phone. The crowd re-acts with a laugh, so the camera goes to other couples who gladly pucker up. But then the camera comes back to give 'em a try. The guy was still too busy, so the girl's gets up and throws her drink on him.
The girl walks away with the team's Grizzly bear that was standing nearby.
Some have called the video fake. Fake or not, they're racking up the online views for a viral hit. So it looks like they may have just hit this one out of the ballpark.