This is an archived article and the information in the article may be outdated. Please look at the time stamp on the story to see when it was last updated.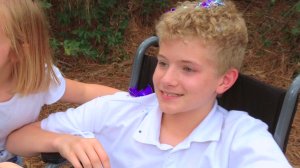 BELLAIRE, TX- For a lot of people, the government shutdown doesn't really affect them much. But for Bellaire 12-year-old Justin Clark, it could mean life or death.
See– Justin has a very rare gene disorder called Giant Axonal Neuropathy or GAN for short. His mom Lagenia Clark explains, "They have figured out that it's one gene that is not working properly in the DNA structure." Typical symptoms are muscle weakness and clumsiness and, oddly, extremely curly hair. But that can progress to complete loss of motor skills, sight, hearing, speech and even the ability to swallow.
When his parents and doctors told him about the disorder, he says he was stunned, "I was like, 'Oh! This so horrible!' I couldn't even think of a reaction."
Only about 50 kids worldwide are currently diagnosed with GAN, and while it usually appears in infancy or early childhood, Justin didn't find out he had it until two months ago, after a growth spurt, "My feet started turning in when I walked, kind of, and I was walking more on the side of my foot, and I wasn't using the balls of my feet."
That led to surgery on both feet, and eventually his diagnosis of GAN. But Justin's never asked, 'Why me?'
"It's a random chance. There's no reason that it happened," says the 7th grader. "There are kids that have been in wheelchairs since age two, so they have it way worse."
Hannah's Hope Fund is a non-profit started by another set of GAN parents, Lori and Matt Sames of Rexford, NY, to raise money for research. A clinical trial to find a cure was supposed to start soon through the National Institutes of Health, but with the shutdown, that's been put on hold. The NIH estimates 200 patients will see delays in clinical trials for every week the shutdown continues.
But unlike Congress, the Clarks aren't sitting around doing nothing. Justin's twin brother Jared has decided to turn his upcoming Half Iron-Man triathlon into a GAN fundraiser.
"I'm gonna run across the finish line with him," promises Justin, "The only thing I'm hoping is he doesn't lean on me for support." You can sponsor Jared by going to JustinsTriumph.org and donating.
While Justin waits for the government shutdown to end, the potential to find a cure for his disorder remains on hold, a source of major frustration for his mother: "You know, you hear a lot of talk about, 'Oh, it's really not, you know, affecting all that much,' but then, you know, you're talking about kids' lives. I think that's pretty important."
We couldn't agree more.