This is an archived article and the information in the article may be outdated. Please look at the time stamp on the story to see when it was last updated.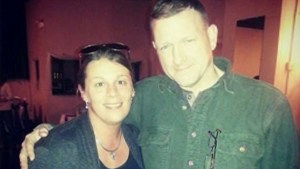 CROWN POINT, IN – It is supposed to be the start of a beautiful new life together.
That just makes what happened in Crown Point, Indiana on Saturday night all the more heart wrenching. On the way home from their wedding reception, just before midnight, 49-year-old William Ripley Knight pulled over to help a woman whose car was in a ditch on the side of the road.  His new wife Nikki stayed in the car, as he got out to lend a hand; but ended up giving his life.
"One of the first vehicles was coming eastbound and struck both individuals [Knight and the woman he was helping].  A car right behind them … also struck the two, and unfortunately a third vehicle that was eastbound also struck the couple," said Lake County Sheriff John Buncich.
Knight and the woman were both killed at the scene. Police say alcohol was not a factor.
"Till death" should never come so soon.