Half naked man climbs power line tower for no good reason
This is an archived article and the information in the article may be outdated. Please look at the time stamp on the story to see when it was last updated.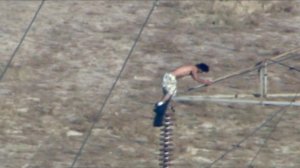 HOLLYWOOD, CA – Folks in North Hollywood got a free show last week after a half-naked guy decided to climb a power line tower.
Police tried to talk the man down for hours, even offering him a warm shower, but the guy ignored them as he bounced around up there.
Power was rerouted and the fire department inflated a rescue cushion in case the man fell.
After four hours, SWAT officers had enough and went up after the man who then agreed to come down.
He's now faces trespassing charges for his high wire act.