This is an archived article and the information in the article may be outdated. Please look at the time stamp on the story to see when it was last updated.
HOUSTON - If you like steak, you've heard of Japanese Kobe beef, but it's not the only name you need to know when it comes to red meat.
"Everybody thinks Kobe, Kobe, Kobe, but Kobe is a region, and the region is made up of four different species (of cattle)," explains Harwood Grill co-owner Tate Johnson.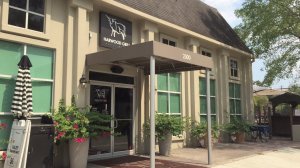 At Harwood Grill, they're focused on the Akaushi breed, which is a high-quality, gorgeous, melt-in-your mouth beef, and it's the only beef they serve at Harwood Grill.
"It's a genetically amazing animal the Japanese have fine-tuned for hundreds of years," says Johnson.
However, they don't have to go to Japan to get it. The owners of Harwood Grill work with their long-time partners at Heartbrand Beef, who, since the 90's, have raised Akaushi cattle just down the road in Harwood, Texas.
"The cattle were brought over from Japan in 1994. All the cattle are produced in the states now, and one of the really unique things about it is 100% of our beef is verified through DNA, so that really helps with our tenderness, our consistency, and overall create a more palatable product," explains Heartbrand president Jordan Beeman.
In fact, that Akaushi quality was the whole inspiration for Harwood Grill, and you know the meat is amazing, if someone's going to design a whole restaurant around it
"What we really wanted to do was give the beef eaters of America another choice, and having that choice at the high-end spectrum, a lot of people can't afford a $150, $160 steak. So, what we decided to do was a ranch-to-table theme, without all the mark-ups in between," explains Johnson.
However, at Harwood, most steaks come in at around the $40 range, so you can expect to pay less than half of those higher price tags.
"It is such a stand-out beef, with the texture of it and the way it has the healthy properties, and just how tender it is. Even from our skirt steak on the nachos, and in the steak sandwich, to the chicken-fried steak, the cutlet, all of it is Akaushi, and I'm just so proud of the product," says Bianco.
Chef Bianco has dreamt up some marvelous dishes for the Harwood menu including the Rib Pulled Pappardelle, and even the burger, which won first prize at Houstonia's Burger Bash in June.
The bottom line is, if you're looking to feed your inner-cowboy, the pure quality of the Akaushi beef served at Harwood Grill will reignite your true Texan spirit, and appetite, and there's a chance you may never settle for another steak again.