This is an archived article and the information in the article may be outdated. Please look at the time stamp on the story to see when it was last updated.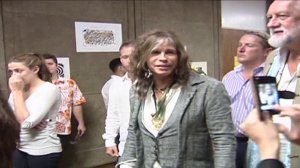 HONOLULU, HI – The latest punch thrown in the battle between celebrities and the paparazzi may have landed squarely on the chin in Hawaii.
Senate bill 465 – otherwise known as the Steven Tyler bill, which would make it easier for celebrities to sue paparazzi for invasions of privacy – cleared the Hawaiian senate and is moving forward to the House of Representatives.
Aerosmith front-man Steven Tyler, who lives in Hawaii, was active in bringing the legislation before the senate, telling lawmakers that he accepts being photographed in public, but railing against photographers using telephoto lenses to peek inside celebrity's homes from distances away.
"It kind of drives us crazy,' Tyler said before the Senate, 'but, as my mom said, 'you asked for it Steve."
The bill isn't without its critics. Some lawmakers argue the legislation serves only to create a safe haven for celebrities interested in moving to Hawaii and buying-up the island's high-dollar real estate.
"It's a hero worshiping bill," State Representative Sam Slom said.
At issue also is the bill's constitutionality, defining what counts as being reasonably seen from the public right-of-ways and what's private.
"It's written so vaguely and it so poorly defines what conduct is prohibited that it may very likely be unconstitutional."
If the bill passes into law, it could open the door for other states to follow suit. But if you're one of those who loves seeing your favorite celebrities behave badly, don't worry; most stars still embarrass themselves in public enough to fill your delight 365 days a year.