This is an archived article and the information in the article may be outdated. Please look at the time stamp on the story to see when it was last updated.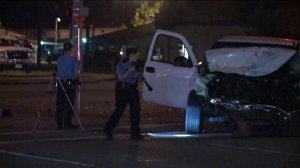 HOUSTON, TX – Andres Munos probably wasn't planning on spending his 23rd birthday in front of a Harris County Judge. Things don't always work out the way we think they're going to.
That being said, Dwayne Polk, a Sergeant with the Harris County Sheriff's Office was not expecting Munos to be speeding through a red light on North Shepherd Sunday morning either, allegedly all liquored up.
Munos t-boned the 47-year-old sergeant as he drove through the intersection on his way home from work. Polk died at the scene.
Harris County Sheriffs are mourning the loss of the 16-year veteran who they describe as a dedicated colleague and caring friend. Munos, who is in the country illegally, has been charged with intoxication manslaughter and is sitting in jail, being held without bond.
At least one of Munos' wishes is coming true. He's staying in the U.S. for now!