This is an archived article and the information in the article may be outdated. Please look at the time stamp on the story to see when it was last updated.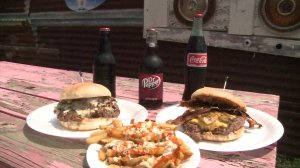 HOUSTON, TX – Remember the good ol' days? When a stamp cost less than a nickel, a gallon of gas was twenty-five cents and you could get a "hand-made" burger and fries down at the local drive-in? Seems like you just can't find that type of quality these days.
Or can you?
If you happen to be in The Heights, you might be in luck. Welcome to the Hubcap Grill.
"I always wanted to open up a burger shop,' says owner Ricky Craig, 'and I was trying to think, 'what kind of name?' something catchy that will stick to your head and it just came to me – hubcap."
It's a little place on West 19th Street with a flair for the nostalgic and a taste for hubcaps.
"We get phone calls from people saying, 'hey, how much is a 1996 Camry hubcap?' and I'm like, 'wrong number, we sell burgers.'"
It's everything from the classic to the insane. And Chew on This: if you can dream it up, they can make it.
The place in the Heights is the Hubcap's second location. They've been open a little over a year now, and already, the folks are pouring in.
"I have a lot of people knocking at the door wanting to do franchises,' Craig says, 'not just here in Houston, but all over the state."
So far, the Hubcap is keeping it local, though the possibility of new locations isn't out of the question. So if you don't make it downtown, or to the Heights, who knows? The next one may be coming to your neck of the woods.