Heir to King James' Throne?
This is an archived article and the information in the article may be outdated. Please look at the time stamp on the story to see when it was last updated.
When 'King James' Tweets, his followers watch and listen. So, when Lebron James posted a link to the video of his 10-year old son, Lebron James, Jr. balling on the court it was no surprise that it got a lot of attention.
Apparently, the 10-year-old's skills were so impressive — they garnered the attention of college coaches.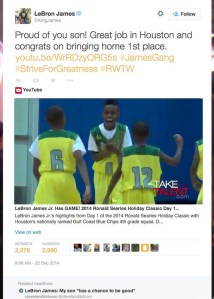 James says his little one's already gotten letters and even scholarship offers from college coaches, and pops isn't too happy about it.
The Cleveland Cavalier forward is playing a little defense off the court saying on a local radio show in Detroit that, "It should be a violation. You shouldn't be recruiting 10-year-old kids."
Now, that we know there's an heir to the throne, let him be a kid for the next eight years before he has to make any life-changing commitments.