This is an archived article and the information in the article may be outdated. Please look at the time stamp on the story to see when it was last updated.
HOUSTON – It's a flood of epic proportions!
The nation's fourth largest city…paralyzed by Mother Nature with flash floods and high water, the likes of which the Bayou City hasn't seen in a long, long time, like Tropical Storm Allison in 2001 and Tropical Storm Claudette in 1979.
But in some areas this one blows them all out of the water– it's being called a once-in-500-years-flood!
Airports, colleges and schools, public transportation and government offices…all shut down as Harris County received 5 to 10 inches of rain in just six hours!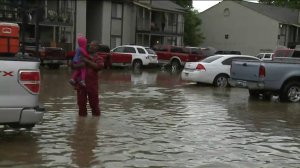 Most of the area remains in a flash flood watch until Tuesday morning.
Mayor Sylvester Turner declared, "There is water all over the place, flooding all over the place."
Some areas in Waller County reported as much as 20 inches of rain overnight!
The American Red Cross opened shelters there to help affected residents.
Dramatic lightning strikes were blamed for multiple fires and for knocking out power to thousands in other areas.
As H-town went into emergency mode, Houstonians were told to stay off the streets if at all possible, but of course that didn't happen.
"There are about 94 intersections that are closed because of water," the mayor announced.
All across the city, the Houston Fire Department performed over 150 heroic rescues in the high flood waters.
Meantime, Congresswoman Sheila Jackson Lee says she's working on getting Harris County declared a disaster area to receive federal relief and to get Houstonians a break with Uncle Sam to extend the IRS deadline for Tax Day.
Officials are hoping for the best with much lighter rainfall forecasted for Monday evening.
"The good news is most of the heavy rain is sagging to the south,  and we only expect about another half-inch," Mayor Turner said.
Turner said he knows Houstonians will rise up and help one another through the aftermath of this flood but for now, he hopes everyone will be safe and smart.
"As best as one can, please stay at home…please stay off the streets," the mayor pleaded.
That's right. Stay high and dry!