This is an archived article and the information in the article may be outdated. Please look at the time stamp on the story to see when it was last updated.
NEW YORK, New York – Millions of people in New York and other cities in the northeast dodged Mother Nature's snow ball when the predicted "historic" blizzard fell a little short, sprinkling a few inches in some areas, and a couple of feet in others.
The precautions for a storm that didn't come through irritated a lot of people, and led to some official apologies.
"Better safe than sorry," said New York's mayor Bill de Blasio.
One of the more interesting apologies came in a tweet from National Weather Service meteorologist Gary Szatkowsky to everyone affected.
Canceled flights in the northeast resulted in thousands of canceled and delayed flights from coast to coast, including Houston.
The threat of nastiness brought out the naughtiness in some new Yorkers who reached out online for some blizzard buddies.
One guy went on Craig's List to promise endless movies, cookies, whiskey, red wine, and making out.
Another guy offered to make pancakes, coffee, and hot chocolate all day, and to share his NetFlix password.
Is that like streaming without protection??
But it wasn't just the boys at play. One woman was looking for a boy at play, writing that the kids are at boarding school, the wine is poured, and she's looking for an energetic young man for the day. "Extra points for college athletes in uniform."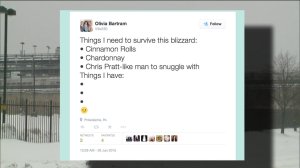 One college co-ed tweeted that she had everything she needed to weather a snow storm, everything, that is, but Chris Pratt.
We think he's taken, but that weather service guy seems to be in need of a friend right now.