This is an archived article and the information in the article may be outdated. Please look at the time stamp on the story to see when it was last updated.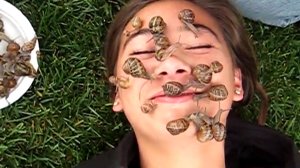 TOKYO, JAPAN – The new remarkable remedy is snail facial and here's how it works.
As the mollusks slime their way across the face they leave a snail trail full of proteins and anti-oxidants. Supposedly this will reduce inflammation, help retain moisture as well as exfoliate dead skin cells.
Clinical Salon in Tokyo proudly boasts they're the only place in Japan you can have a live snail facial. Maybe, but you don't have to go all the way to Tokyo. We checked The Holy Grail of video (also known as YouTube) and found people have been doing this for a few years with amazing results.
If you think a snail sliming your face will make you look younger go for it.; we'll just wait for the next trend.