This is an archived article and the information in the article may be outdated. Please look at the time stamp on the story to see when it was last updated.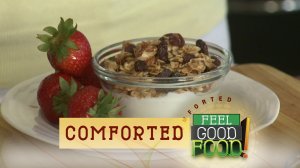 Homemade Granola is typically lower in fat and sugar than store-bought stuff.  Feel more comfortable, and make it at home!
Homemade Granola – Feel Comforted
Ingredients
2 cups old fashioned oats
¾ cup almonds, chopped or sliced
2 tbsp canola oil
¼ cup honey
½ cup raisins
Optional:  1 tbsp milled flax, 1 tbsp wheat germ, 2 tbsp unsweetened coconut and/or 2 tbsp cocoa nibs/1 chopped, unsweetened cocoa square
Instructions
Preheat oven to 350F.
Coat a baking sheet with a thin layer of olive oil or cooking spray.
In a large bowl, combine all the ingredients except the raisins. Toss until well coated. Spread the mixture on the baking sheet.  Bake for 10 minutes, stirring half way through.
After baking, let the granola set on the tray for 15 minutes.  Add the raisins and store in an airtight container.
Serve as a dry snack, or over yogurt or milk.