This is an archived article and the information in the article may be outdated. Please look at the time stamp on the story to see when it was last updated.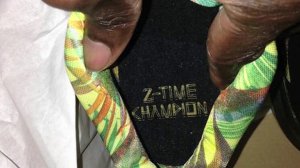 HOUSTON, TX – Will a Houston t-shirt company get hung out to dry?
"Well, we're getting ready for the Spurs. We're hoping they win so we can print shirts all night," said Todd Longenecker with Trademark's, a t-shirt printing company.
This is obviously Todd before the Miami heat beat the San Antonio spurs 103-100 in Game 6 of the NBA finals.
Trademarks won a bid to make championship shirts for the San Antonio Spurs turning those yellow shirts into a lot of green. Don't worry, there's still hope for the shirts and for the Spurs. The team still has a shot at finals victory by winning game 7 Thursday, meaning the shirts can still possibly hit the shelves.
Longenecker isn't the only one jumping the gun. Nike (of all things) made a special pair of shoes for Lebron James of Miami Heat fame.
What makes these shoes so special? The words "2-time champion" stamped on the inside of one shoe, and "11-12, 12-13" inside the other.
Just one problem: Lebron hasn't won that second championship yet.
So who's the fool, Longenecker or Nike? Guess we'll find out Thursday.