This is an archived article and the information in the article may be outdated. Please look at the time stamp on the story to see when it was last updated.
HOUSTON – Houston Police needs your help tracking down a man they say is a regular at Family Dollar stores, especially on the southeast side, but he is not there for the low cost of store products.
He's wanted for robbing at least three stores since June, and connected to a robbery of a man on the southwest side.
HPD says the suspect is a black man, about 5 feet 8 inches tall, weighing about 230 to 250 pounds.  He's been spotted on surveillance video wearing t-shirts, shorts, and sunglasses.
He's hit up stores on Broadway, Telephone Road, and Navigation.  In one robbery, cops say he even pointed a gun at a child and stole a car.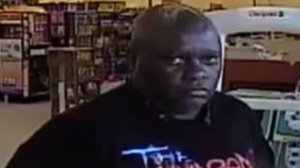 Cops say he targets employees at the register, where he shows a gun and demands money before jumping over the counter for a stash.  Store surveillance video shows him exiting one store, looking right at the camera.
This guy may be out of sight but he's sure not out of mind.  Houston Police are shopping around so they can bag this guy.  It probably won't be long before cops find him.  Pretty sure they know exactly where to look.