This is an archived article and the information in the article may be outdated. Please look at the time stamp on the story to see when it was last updated.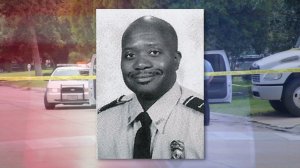 HOUSTON, TX – A Houston fire inspector is dead. As of Monday night, his alleged shooter was on the loose.
There was one key witness: the victim's 17-year-old daughter.
"She says they pull into the driveway, her father is driving the car. She gets out of the vehicle and goes up to the garage door. The garage door is open. Moments later, she hears what sounds like a shotgun cocking, and just moments later hears a couple of gunshots and sees her stepfather shoot her father," said Houston Police Public Information Officer John Cannon.
The victim has been identified by the Houston Fire Department as 55-year-old David Stoneham. He joined the department in 1980.
The suspect, 45-year-old Alain Bell, is wanted for murder.
Anyone with information on Bell's whereabouts is asked to call Crime Stoppers.