This is an archived article and the information in the article may be outdated. Please look at the time stamp on the story to see when it was last updated.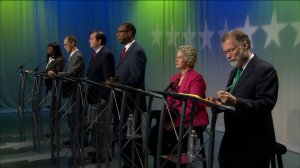 HOUSTON, TX – It was a political showdown in Houston (beats a shutdown, huh?). The day after the city's first and only mayoral debate, the games are on.
All seven candidates were present on Tuesday night, but the spotlight has primarily centered on the two frontrunners: Mayor Annise Parker and former City Attorney Ben Hall. The two sparred over a number of issues, including Houston roads.
"We have streets that are deteriorating. You have been in office as mayor for four years, you've had command of 20 billion dollars, our streets are deplorable," said Hall.
"I see the condition of the streets of Houston as well as anyone else. But over the next 20 years, you are going to see a complete transformation of those streets, thanks to rebuilding our infrastructure," said Parker, while touting the new pay-as-you-go financing approach.
The two were fairly mild and restrained on stage, but now that the cameras are off, the rhetoric is heating up.
Mayor Parker's people have launched a media campaign calming she clearly won, Hall hides the truth and his plan for crime in Houston equals more criminals. Hall's peeps say Parker wants to 'shut out voters,' she's asleep at the wheel and 'corrupt.'