This is an archived article and the information in the article may be outdated. Please look at the time stamp on the story to see when it was last updated.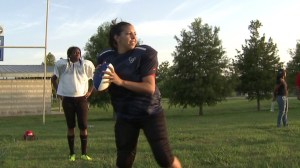 HOUSTON – Football is mostly known as a man's sport, but a group of super gals are proving they can play just as tough as the boys. And trust us, this is not flag football.
The Houston Energy is a team made up of all women. They're part of the Independent Women's Football League. Most of them hold regular daytime jobs, but play football at night.
The team is headed to Austin this weekend, hoping to snatch their league's Super Bowl ring.