This is an archived article and the information in the article may be outdated. Please look at the time stamp on the story to see when it was last updated.
HOUSTON, TX – A suspect pursued for shoplifting now faces murder charges, all because he decided to run.   Bellaire Police Officer Anthony Marco Zarate took a deadly turn on his motorcycle, a high-speed pursuit through the Meyerland area.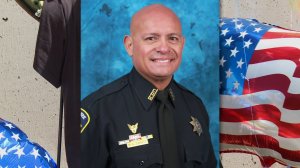 Because the suspect, Dante Moore, was evading arrest at high – dangerous speeds when officer Zarate went down – a shoplifting charge is the least of his worries.
Moore turned himself in, and now faces a murder charge.
"This rule is called the Felony Rule… Evading an officer is a felony, and under Texas law if you're in the process of committing a felony, and in the course of committing that felony you commit a dangerous act —  an act that is dangerous to human life — then you can be charged with murder," says Criminal Law Professor Sandra Guerra Thompson from the University of Houston Law Center.
Whether or not high-speed pursuits are protocol in cases of shoplifting are unclear, but perhaps the fact that a box cutter was used to remove security tags, and can be used as a weapon, may be why Zarate started the chase that ended his life.
Moore appears in court Friday morning. It's not his first time in front of a judge, his rap sheet dates back to 2007 and ranges from burglary to possession of a controlled substance.
No word yet on whether or not his twin brother, Dominique, who was thought to be riding with him in the car, will face accessory charges.
Meanwhile, the memorial for Zarate, who was a respected officer, continues to grow at the Bellaire Police Department, and a visitation Sunday at Memorial Oaks will be open to the public, the very same public that Officer Zarate had sworn to protect and serve.