This is an archived article and the information in the article may be outdated. Please look at the time stamp on the story to see when it was last updated.
MONTGOMERY COUNTY, Texas – If mugshots could talk — well, they are at least worth a few thousand words when it comes to a trio of  women accused of making a mad dash out of a pharmacy loaded with stolen goods — then it looks like regret is the thought of the day.
Just after 3 p.m. Tuesday, a Montgomery County Pct. 4 deputy was flagged down on the roadway by a citizen reporting that a white passenger car, occupied by three women, just took a large amount of items from a CVS store in Porter, Texas.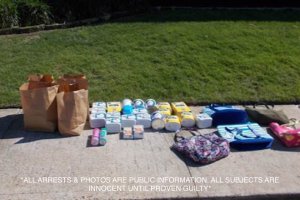 The deputy was able to locate and stop the vehicle, and several more deputies arrived to assist.
According to deputies, the women walked into a store in the 23800 block of FM 1314, then all ran out with items in hand.  Once the items were returned to the store, a CVS employee advised the total amount of the stolen items was $2,054.56.
Shakedria Williams, 35, Jacqueline Williams, 52, and  Melissa Randle, 20 — all from Houston — were each charged with felony engaging in  organized criminal activity.
Williams also had arrest warrants for theft pending in Harris County, Galveston County and Bexar County.   
The women were booked into the Montgomery County Jail. Their bond amounts were not immediately known.