This is an archived article and the information in the article may be outdated. Please look at the time stamp on the story to see when it was last updated.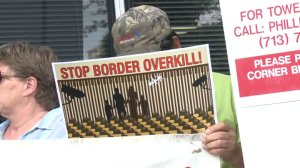 HOUSTON, TX – It appears immigration reform isn't as hot of a topic as Trayvon Martin. Maybe people were just pooped from protesting all weekend.
Still, a few people showed up at Harris County's Republican headquarters Monday; but its Capitol Hill people with Houston United have their eyes on.
They aren't too happy with the House of Representatives and Congress' inability to vote on the issue.
"Without the consideration of immigration reform, without allowing people to legally cross the border, many are currently dying," said Maria Jimenez with Houston United.
To be exact, 271 people died on the Texas-Mexico border last year, according to the Immigration Rights Coalition.
"They one way that we can see to alleviate death of migrants and the suffering of families is to allow for flexible, legal migration which includes the legalization of 11 million people who are here and a path to citizenship," said Jimenez.
Members of the coalition are no the path to Washington, D.C. They will present their report to the House this week.