This is an archived article and the information in the article may be outdated. Please look at the time stamp on the story to see when it was last updated.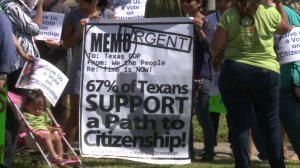 HOUSTON, TX – Immigration reform supporters showed up at the local GOP headquarters, asking U.S. House Republicans from Texas to commit to a vote on the Border Security, Economic Opportunity and Immigration Modernization Act of 2013, which the senate approved about two weeks ago.
"So we're here asking our Republican fellows to move on with the vote and to allow the debate to happen in the House of Representatives," says Silvia Chicas.
"We just want to let them know that 67% of the Texas population supports immigration reform and so they should support it too and give immigrants a chance here in the state and all over the country," said Cesar Espinosa.
"Well, it's important to pass the reform now because it's good for the economy, it's good for the community, it's good for the countries, it's good for the borders," said Johnathan Gwyn, a Republican who supports the immigration bill.
Just because the protesters showed up, doesn't mean the GOP would let them in.
"They're saying they can't open the door because we are trespassing. But we are here and we know we have the right to be here," said Espinosa.
"I think they just didn't want to say no to our faces," said Chicas.
Either way, the GOP will have to "face" the issue sooner than later.