This is an archived article and the information in the article may be outdated. Please look at the time stamp on the story to see when it was last updated.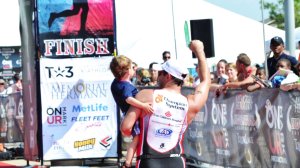 HOUSTON, TX – "Because Shawn went through three surgeries and they were surgeries that were really impossible to overcome at his age, but he had the resilience and determination to live and that inspired me to make a change in my life," says Matthew Murphy
Matthew Murphy is now an Ironman. He takes on the daunting challenge of miles and miles of swimming, biking and running. He does it for himself and something bigger – to bring awareness to child birth defects through his organization, Shawn's Anomaly.
"A child is born every 4 1/2 minutes with a congenital birth defect. It's very rarely discussed. It's the leading cause of infant deaths and no one is speaking about it. I had to figure out the best way to be the best ambassador for it and so I literally left my career. Why are you doing what you're doing and I'll always immediately say because no else and they need to.  So, I'm an anomaly because I speak about it."
Murphy is hoping to shed more light on his cause at the ultimate showcase for the Ironman – the World Championships in Kona, Hawaii. Through his website, he is trying to get the votes needed to compete.
"I am Kona-inspired but I need your vote to finish my journey at the Ironman World Championships. Please vote today."
The challenge to finish the ironman seemed once impossible, but some simple words of encouragement pushed him on.
"I'd given up. He looked at me and he saw who I was and he went way to go Matt. Shawn's waiting for you at the finish and immediately I said I don't care if I have to crawl the marathon, I will cross the finish line tonight."
Murphy crossed that finish line with his inspirational son, Shawn, waiting for him. That same determination will hopefully get him to cross the finish line in Hawaii