This is an archived article and the information in the article may be outdated. Please look at the time stamp on the story to see when it was last updated.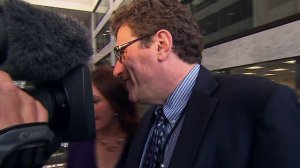 WASHINGTON, DC – The finger pointing has started in Washington.
CNN reports that its congressional sources say the Internal Revenue Service is blaming two rogue employees in the Cincinnati office for 'overly aggressive' handling of tax-exempt applications from conservative, tea party and pro-Israel groups.
Acting IRS commissioner Steven Miller is said to have told congressional investigators the agency has disciplined the un-named employees and indicated they were not the only ones involved.
CNN also says Miller told investigators the two employees were 'off the reservation', a phrase sure to please the Native American population.
Attorney General Eric Holder was on Capitol Hill to talk about the IRS debacle, the Department of Justice harvest of Associated Press phone records, and other hot potatoes for the Obama Administration.
Holder said the FBI has started a criminal investigation into what happened at the IRS. And Texas congressman Lamar Smith wanted to know if that probe would move beyond Cincinnati.
"Yes it would,' Holder answered. 'The facts will take us wherever they take us."
But it appears groups with the words 'tea party' or 'patriots' in their name were not the only targets of the 'Illegal' Revenue Service.
Politico reports that Franklin Graham, who heads the Billy Graham Evangelistic Association, wrote a letter to President Obama suggesting the IRS tried to intimidate the group after they ran ads supporting a North Carolina constitutional amendment banning gay marriage.
And Politico says it interviewed conservative groups in Texas and other states and found out the IRS asked for a whole bunch of information, a U-Haul truck full, according to the Waco tea party organization. Among the information demanded were copies of Twitter tweets and Facebook posts.
And, now the IRS says it will close all of its offices across the country on May 24 and four other days this year because of the sequester.  Talk about bad timing.