This is an archived article and the information in the article may be outdated. Please look at the time stamp on the story to see when it was last updated.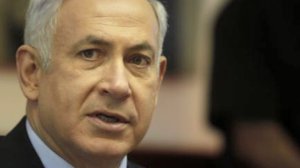 JERUSALEM, ISRAEL – Sometimes you need a little privacy when hitting the sheets. And that`s apparently true for Israeli prime minister Benjamin Netanyahu and his wife who do a lot of traveling on official government business.
But it was their recent flight to London for the funeral of former British Prime Minister Margaret Thatcher that raised some eyebrows, and not for what Bibi and his third wife Sara were doing in the bedroom, but the fact that they even had a bedroom on board the chartered El-Al jet for the five-and-a-half hour flight.
An Israeli TV report said taxpayers put out $127,000 to build a room around a double bed, and to fit the plane with 22 business class seats.
Netanyahu says he didn't realize how much the bedroom cost, and apparently from now on, Bibi and the wife will not have a special place for their special time.
The bedroom bungle comes a few months after Israelis learned they were paying $2,700 a year so the Prime Minister's office staff could have ice cream from a local shop at a time when Israelis face tax hikes as part of austerity measures.
Talk about a rocky road.