This is an archived article and the information in the article may be outdated. Please look at the time stamp on the story to see when it was last updated.
Grego sounds off on the weather say it's better to be wet than have to deal with drought.
"Tropical Storm Bill is dumping on Houston, Dallas next, some flooding with more expected. stand on higher ground and keep it here for updates, and if you haven`t already, hit up the app store to grab our CW weather app! If you`re wondering, the Texas drought is officially over!  May 2015 was declared the wettest month on record for Texas. Thanks El Nino!!  Here`s a NOAA weather chart showing moisture levels;  green is good, red is bad, you can see California`s color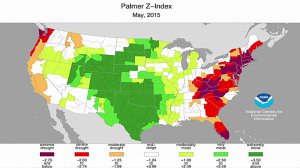 indicates drought - why they've enacted strict conservation rules. But for us, time to water grass, and wash cars?  We're so spoiled! Just letting' the water run without a care ..long showers much?!  But water remains a concern. as the population in Texas is expected to nearly double what it is now within the next fifty years, our water supply is going to have to increase forty percent by 2060!  40%! More pumping stations and about fifteen times the current amount of drinking water reservoir capacity. Water for farming, and cooling the 250 or so power plants across the state among other things. where's it gonna come from? San Antonio`s tapping into underground aquifers. It cost them $210 billion dollars to open a new facility, Tarrant county is thinking about it. Forty-five years may seem like a long time, but with the threat of California running dry to scare `em, hopefully more Texas municipalities will tackle our water supply issues soon. After all, we could experience more severe drought conditions, and perhaps a drought of dollars to boot, ya never know!  Meantime, it never felt so good to be wet!"