This is an archived article and the information in the article may be outdated. Please look at the time stamp on the story to see when it was last updated.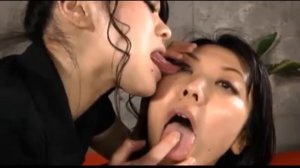 TOKYO, JAPAN – Japan, the land of the rising sun is also seeing the number of kids with pink eye on the rise. One possible cause for this conjunctivitis? These crazy classmates are licking each others eyeballs!
Konichi-Waaaahhhh?
Japanese teachers started getting suspicious when students started showing up to school wearing eye patches. Looking deeper into the matter, they found out the pupils where dabbling in a dangerous new fetish French kissing each others eye-holes for kicks.
A school survey found one-third of their six graders (mostly 12-year-olds) have engaged in eyeball licking or had their own eyeballs licked. Many kids even consider a "tongue on their peeper" the next "base"after French kissing, but before full on groping.
Also known as "Oculolinctus" — or just plain "worming" — eye experts say those who partake in this gross act, may see other nasty ailments like herpes and chlamydia in their eyes.
Let's all hope these kids stop spreading their eyes for each other. These pre-teens getting pink eye, are having everyone else  seeing red!