This is an archived article and the information in the article may be outdated. Please look at the time stamp on the story to see when it was last updated.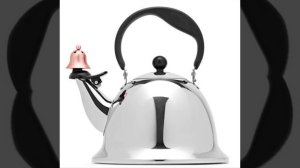 CULVER CITY, CA – Remember being a kid and looking at the clouds for animal shapes or faces of people? Hey isn't that Amanda Bynes?
Or maybe you have taken one of those inkblot tests to see if you are a real sick-o or just a run-of-the-mill pervert.
Georgia O'Keeffe made a whole career out of painting flowers that seemed to be more than flowers.
The point is that sometimes we see what our minds tell us to see.
Take the tea pot from JCPenney. Most people saw a decorative piece of kitchenware for heating water. At least they did until Penney put up a billboard in Culver City, Calif. That's when people noticed an eerie resemblance to Adolph Hitler!
That started a 'fuhrer' on social media, a 'Teutonic' in a tea pot, if you will.
Penney took the $40 teapot off of its Web site and tweeted that they did not intend to make the teapot resemble Hitler. JCP only offers the teapot in its stores, so maybe this was a crafty way to drum up some foot traffic.