This is an archived article and the information in the article may be outdated. Please look at the time stamp on the story to see when it was last updated.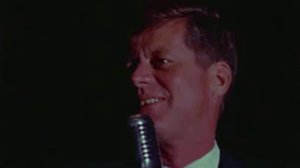 HOUSTON, TX –  Sometimes memories stick with us forever. A day like today, 50-years-ago, President John F. Kennedy landed in Houston. These were the last hours of his life; but with a simple gesture, he changed the lives of many.
That night President Kennedy made a last minute change in his tight schedule to pay a visit to the League of United Latin American Citizens' council gala at the former Rice Hotel. For the attendees, at that time, that was already a historic moment.
"This was the first time that a Hispanic group had a President drop in on an event," recalled Alex Arroyos, one of the event organizers, "at least it was the first time for the LULAC."
Jacky Kennedy even delivered a speech in Spanish.  For them, it was a sign that something good was happening in their struggle for civil rights.
"I remember as a little kid in Edna, which is a hundred miles from here," explained Arroyos. "I couldn't drink water from the faucet, you know, they were whites only."
The next day, President Kennedy's life was over; but the hope he ignited is still resonating in the hearts of millions.