This is an archived article and the information in the article may be outdated. Please look at the time stamp on the story to see when it was last updated.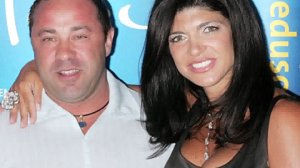 NEWARK, NJ – Reality TV stars Joe and Teresa Giudice; not your average Joe, and definitely not Mother Teresa.
For a woman who made a name for herself mouthing off in front of a camera, she was awfully quiet on the way to the courtroom.
The U.S. District Court has indicted the pair after being accused of exaggerating their income when they applied for loans before being launched into Housewives fame. The Giudice's then allegedly hid the fortunes in a bankruptcy filing.
The couple is facing 39 counts of fraud and tax charges. Joe is also facing charges of failing to file tax returns between 2004 and 2008, during which time he made nearly a million bucks.
The couple could face up to 30 years in prison and a million dollar fine. But that's the not the worst of it. Get this: if found guilty, Joe could be deported back to Italy. Teresa's lawyers say she'll plead not guilty.
The Giudice crew can try to slap away the cameras. Something tells us slapping away these charges won't be as easy.