This is an archived article and the information in the article may be outdated. Please look at the time stamp on the story to see when it was last updated.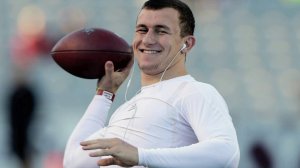 COLLEGE STATION, TX – Texas A&M quarterback Johnny Manziel has a long way to go before reaching rock star status; but he's not far off and he's not even a pro yet.
Johnny Football pleaded guilty to a misdemeanor charge on Monday for failure to identify himself when questioned after a late-night bar fight in the Northgate District; and more recently, he left the Manning Passing Academy early, stating he was "dehydrated" after a very public night out.
Anyway, Manziel's apologized to his A&M coaches as well as the people at the Manning camp. Now he heads to the S.E.C media days to face about 1,200 media personnel who are just chomping at the bit to throw some hard questions his way.
Not a lot of college stars have been in the spotlight as much as Manziel; we can thank social media for that. The kid has only played one season of college ball, won the Heisman and has over 350,000 Twitter followers.
It's safe to say he's embracing the social aspect of the game, as most 20 something's will do, but will the spotlight be too bright for him to handle in year two? Only time will tell.