This is an archived article and the information in the article may be outdated. Please look at the time stamp on the story to see when it was last updated.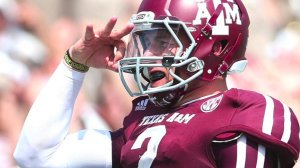 COLLEGE STATION, TX – According to the people at ESPN, Johnny Manziel signed autographs and memorabilia for dealers in six sessions; two more than originally reported. One in South Florida after the Discover BCS National Championship game in early January and again, in H-Town at the Saint Regis Hotel when he was here for the Wale concert in late January.
If Manziel got paid, it's against NCAA rules. Should he be able to be paid for these autographs?
Florida based autograph dealer Kevin Freistat organized the latest autograph sessions. He's got exclusive deals with the likes of Sugar Ray Leonard, Muhammad Ali and MLB poster boy A-Rod.
Manziel repeatedly signed about 1,500 items at each of the two sessions. Here's an autographed photo we found at a local memorabilia shop, they're definitely floating around out there. The six sessions in three states in less than a month produced more than 4,400.
It's up to the NCAA to decide what happens next, if Manziel's got any brains left, he'll lay low for a while, if he can.