This is an archived article and the information in the article may be outdated. Please look at the time stamp on the story to see when it was last updated.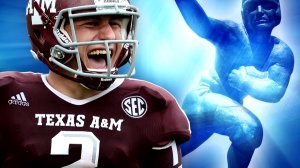 COLLEGE STATION, TX – Johnny Manziel just can't seem to wait until football season to see his name in the news.
The Aggie quarterback sent rumors spiraling over the weekend after leaving the Manning Passing Camp in Louisiana a day early due to "dehydration."
Now Manziel is taking care of some off-field business.
He pleaded guilty Monday to failing to properly identify himself to a cop.
As the story goes, Manziel was getting down with some buddies on Northgate last summer. A witness told cops Manziel was trying to diffuse an altercation between his friend and some older guy when a fight broke out. Cops intervened and say Manziel gave them a Louisiana license with a 1990 birth date.
Silly Johnny. We all know you were born in 1992.
Manziel's not in too much trouble. He just has to pay a fine up to $2,000. Since he spent some time in the slammer after the initial arrest, he doesn't have to go back to jail.
With this only being Johnny Football's second starting season, let's see if he can stay out of trouble, or we're going to have to change his nickname to Misdemeanor Manziel.